Millennium Jubilee Hall
Kesgrave Town Council, Useful Information
About Us
Kesgrave Town Council extended and re-developed the hall to provide a much needed community facility and is available for hire to organisations, individuals and businesses for meetings, parties etc. during weekdays, evenings and weekends.
There are two halls. The Millennium Room, is approximately 85sq metres and the Jubilee Room is 100sq metres and has a vaulted ceiling. There is also a shared Kitchen which is kitted out to enable two hirers to use the facility at the same time when necessary. There are also the usual "facilities" of mate and female toilets and one specifically for disabled patrons. To the eastern end of the building there is a fenced off outside area in the region of 125sq metres, This can be accessed from, and therefore available to hire with, the Millennium room.
Both Millennium and Jubilee rooms can be set up for meetings as well as events needing tables.
Opening hours are:
9am – 10pm Monday to Saturday
9am – 5pm Sunday and Bank Holidays
Car parking is available.
Anyone interested in booking the facility should initially contact the Town Council office on Ferguson Way, or email mjh@kesgravetowncouncil.org.uk or to phone (01473) 625179.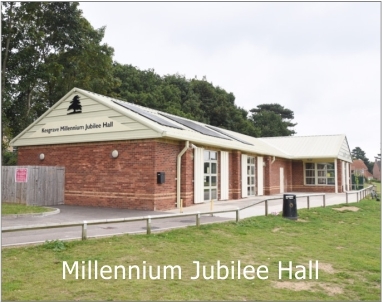 Share
Contact Info
Location
Phone
Email

mjh@kesgravetowncouncil.org.uk

Web Site