We are pleased to be able to welcome you back into our repair shop.
In line with government guidelines we have introduced safety measures to comply with social distancing and hygiene requirements to keep our customers and staff safe.
If you are concerned that you may have Coronavirus, please do not visit our shop.
---
Zero Entry
Customers are not allowed to enter into the repair shop.
---
Protect each other
We are allowing one customer at a time. We're asking people to come alone if possible to support social distancing.
---
Keep your distance
There are floor markings and signage to remind everyone to observe social distancing guidance.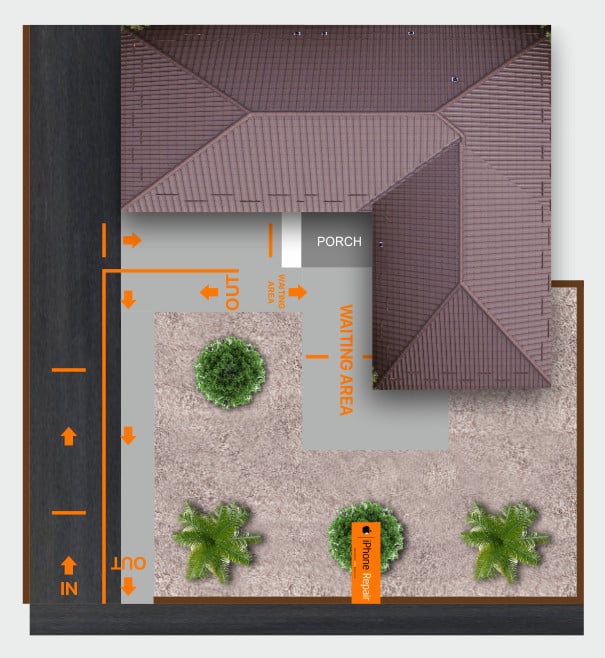 ---
Self-protection
We have introduced screens at the customer desk and staff will be wearing gloves. Sanitizing station and free gloves will also be available for customers to use.
---
Devices sanitization
For hygiene purposes we are providing our customers' devices sanitization, so your device will be thoroughly cleaned every step of the process with a special machine to keep you and our staff safe.
---
Payment
We accept only card and Apple Pay payments in this period. We would also ask that you pay with contactless card options.
---
Repair time
Please bear with us, as repairs will take a little longer than usual.
iPhone screen replacement approx. 20 minutes
iPhone battery replacement approx. 20 minutes
iPhone other parts replacement approx. 30 minutes
iPhone logic board repair 2 working days or more
iPad screen replacement 1 working day or more
iPad battery replacement 1 working day or more
---
Opening Times
Our opening hours will be the same as usual.
Monday, Wednesday, Friday 10am – 5pm
Tuesday, Thursday 1pm – 5pm
Saturday 10am – 2pm
Sunday Closed
---
Online Orders
We are now able to accept online orders again. Please bear with us, as deliveries will be a little longer than usual. Some orders may take up to 5 working days.
Please keep checking our website for updates. Please continue to stay safe and thank you once again, for your understanding, continued support and loyalty.
iPhone Repair Base
21 Edmonton Close, Kesgrave IP5 1HE
https://iphonerepairbase.co.uk